NEW WORLD returns to Stage October 1 and 2 at Nahed Chapman New American Academy
By Lee Patton Chiles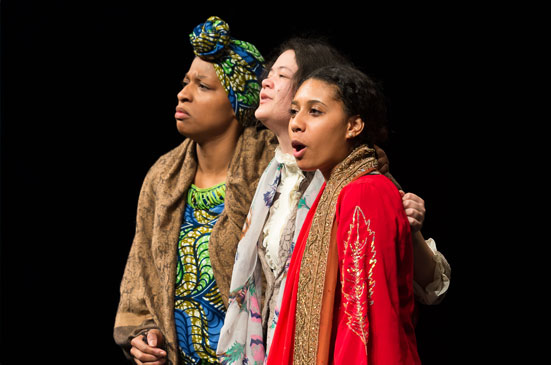 NEW WORLD is a compelling original one act play based on interviews with women refugees from Afghanistan, Bosnia and the Congo. You will hear how they came to St. Louis with hope to create a new world by healing their old world wounds. Q/A with community leaders working with refugees in St. Louis will follow each performance.

For Tickets go to Eventbrite.
| | |
| --- | --- |
| | General Admission $12 |
Nahed Chapman New American Academy, Gallaudet Bldg. at 1616 S. Grand, St. Louis 63104

Saturday, October 1 at 7:00 PM &
Sunday, October 2 at 3:00 PM

Here's what audience members say about NEW WORLD!
"The play and the acting are brilliante"

"The heartbreaking portrayals were electrifying, informative and penetrating. The
language, movements and actions were so descriptive."

"Coming from a Bosnian family it could not have been portrayed better."
---
---