Coming back to stage by popular demand!
BLACK AND BLUE
By Lee Patton Chiles

An original play of hope and healing, exploring the assumptions that all
young black men are dangerous, and that all cops are bad.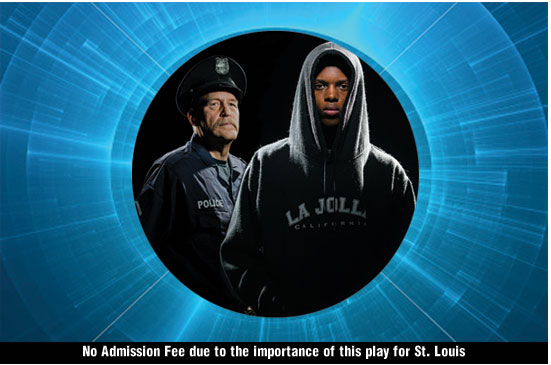 Meet the cast and crew including professional and community actors. >>
Audience Survey Results
Over 1045 performance surveys were completed by audience members--the highest number in our 18 year history! Here are the results!

Overall Quality of the Performance? 94% Excellent 5% Good
Would You Recommend this performance to others? 97% Yes 3% Maybe
What was the value of this play to the community? 95% Extremely Valuable 5% Valuable

Read More about Black and Blue >>
TICKETS AND RESERVATIONS

Tickets are free! If it is within your means make a donation to support bringing this play to as many people as possible in St. Louis!
Register and make your donation online at Eventbrite.
| | |
| --- | --- |
| | **Harris Stowe University performance sold out! |

Questions: Email us at info@gitana-inc.org or call 314-721-6556

DATES/LOCATIONS

Friday, May 20 7:30 PM
Harris- Stowe State University, Emerson Performance Center, 3101 Laclede, St. Louis, MO 63103

Sunday, May 22 3:00 PM
Webster Groves High School, 100 Selma, Webster Groves, MO 63119

Friday, July 15 7:30 PM
Christ Church Cathedral,1210 Locust, St. Louis, MO 63101

(Bookings available in June and early July. Call 314-721-6556)
---
---
---